JR East will launch a new limited express sightseeing service, called the "Saphir Odoriko", on March 14th this year. The new train will run between destinations in Tokyo and Izukyu-Shimoda Station on the Izu Peninsula passing through Yokohama and Atami on the way. This train will replace the current Super View Odoriko service. All of the Odoriko trains are named after a famous short story by Yasunari Kawabata called "Izu no Odoriko" or "The Dancing Girl of Izu". However, the new train's name and exterior coloring is inspired by the sapphire blue of the ocean and sky in Izu's popular seaside spa resorts.
The Saphir Odoriko is an eight-car electric train with 164 seats and its design was overseen by the industrial designer, Ken Okuyama who has previously designed the luxury cruise train Shiki-Shima, and Tobu Railway's Revaty series of limited express trains. All seating on this train is "Green Car" or first class with some cars offering luxurious "Premium Green" seating.
Car 1 has "Premium Green Car" seating with just two seats per row. Cars 2 and 3 have private compartments and cars 5 to 8 are standard Green Cars with 3 seats per row.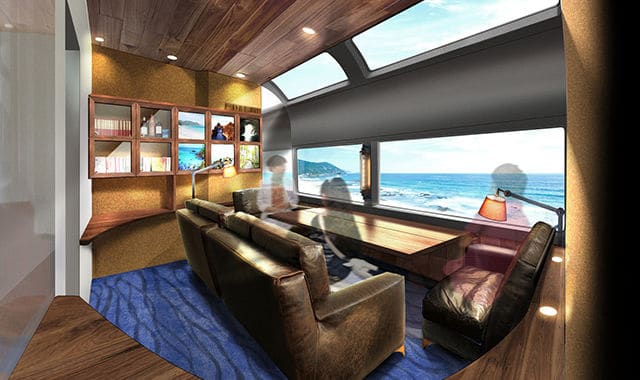 Car 4 is a cafeteria with a range of noodles, snacks and drinks served from an open-kitchen. All seats on this train have their own power outlets and free Wi-Fi is available.
For more details of this train's timetable and ticket prices please visit the official Saphir Odoriko webpage.
Article by Michael Lambe. Photos courtesy of JR East. All rights reserved.