If you're going to travel in Japan, there's one essential thing you should get aside from a Japan Rail Pass: a prepaid train card. It allows for easy, speedy travel across various rail companies after you charge it with cash. Prepaid cards are probably the single most useful tool for riding the rails in Japanese cities. They can also be used on buses, including some airport shuttles, intercity and overnight services, and other forms of public transport, as well as at many stores, restaurants and vending machines.
Overview
Prepaid cards are also known as IC cards – IC being short for "integrated circuit," the radio frequency identification (RFID) technology developed by Sony under the FeliCa brand that powers them. They're a snap to use: simply waive them when going through the gates and you're done.
One of the biggest benefits to using prepaid cards is that you don't have to worry about buying transfer tickets when changing to a railway run by a different company – it can be very frustrating and confusing trying to buy the right transfer ticket from a vending machine.
Aside from being able to use prepaid cards to buy goods from participating shops, users get a small discount on train fares in Tokyo and some other cities.
Getting & using prepaid IC cards
Prepaid cards are sold at ticket vending machines in stations throughout Japan including major airports such as Tokyo's Narita and Haneda.
First, you should find out what the cards are called in the city you're visiting (see a list below). Next, look for the machines bearing the name, select English in language preferences and follow the prompts – choose a blank card, not the commuter type (personalized and reduced-fare children's cards are also available). A 500 yen deposit will be deducted from the cash amount you charge the card with, and the initial purchase price will usually be 2,000 yen. It's a good idea to add 1,000 or 2,000 yen, enough for a day or two depending on how much you'll travel but not a huge loss if you misplace the card. If you plan to shop or dine with the card, add more yen.
When going through the ticket gates at station, simply bring the card close to a contactless reader and you'll hear a beep. When you exit at your destination, repeat the procedure and the fare will be automatically deducted from the value stored in the card. One problem is that the cards themselves don't display how much money is left, but small screens next to the contactless readers often do.
If the card doesn't have enough funds, an alarm will sound and the gate will automatically tell you (in Japanese) to top up while blocking your exit. You can top up at a fare adjustment machine (seisanki 精算機), which usually have yellow panels, near the ticket gates. Some cards allow you to register a credit card so topping up is automatic.
When using prepaid cards on a bus, you should waive it near the contactless reader when boarding; you may or may not have to it again when disembarking. The driver can help you top up the card.
When you no longer need your prepaid card, you can get your 500 yen deposit back, along with the unused credit minus a 220 yen handling fee, at a ticket office of the company that issued the card.
Shopping at convenience stores
Rechargeable train cards can also be used to buy food, drinks and other goods at many convenience stores (konbini), such as 7-Eleven, Lawson and Ministop, as well as pay for courier services. For instance, if you wanted to send your luggage from one part of Japan to another, you could go to a participating konbini chain store and pay with a Pasmo or Suica card.
IC train cards can also be used to pay for coin lockers, goods at vending machines, parking lots and even Nintendo video games via the Wii platform. Just look for the IC card logo to see if you can use your card.
Interoperability
While prepaid train cards in Japan are generally regional in nature, so that Tokyo has different cards than, say, Osaka, interoperability is basically nationwide wherever IC transport cards are used. That means you can use one city's cards for transport in another city even though they can't be used to travel from one to the other.
For instance, you can use a Pasmo, Tokyo's subway card, to get around on the Fukuoka City subway. You can also shop with Pasmo and recharge it in Fukuoka. Check the list of cards below for the ones used in the city you'll be visiting.
Prepaid IC card list
These 10 prepaid cards have odd names (and, this being Japan, cute mascots), but they're all interoperable, meaning you use any of them in the cities or areas listed once you arrive. Using the cards for intercity travel is often not possible unless you're on an long-haul bus ride.
Suica Card – JR East, Tokyo and Eastern Japan
Suica is issued by JR East, the largest rail operator in Tokyo and Eastern Japan. It has a penguin mascot and can be used in the Tokyo area as well as in Niigata, Sendai, Hokkaido, Western Japan and Kyushu. Note that it cannot be used for direct travel between two different areas. You'll have to exit the ticket gates and then reenter when using it at a station bordering two areas.
Pasmo Card – Tokyo Metro
Issued by subway operator Tokyo Metro and other transport companies in the Tokyo area, Pasmo is known for its pink robot mascot. It can be used on buses as well as subways and trains and is basically interchangeable with the Suica card.
Icoca Card – JR West, Osaka
Icoca is issued by JR West for the Osaka, Okayama and Hiroshima areas. Its mascot is a blue platypus.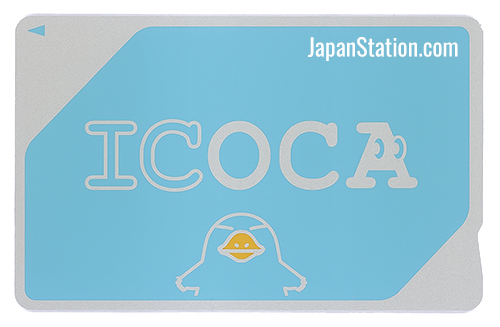 PiTaPa Card – Kansai Area
The PiTaPa card is issued by transport companies in the Kansai area surrounding Osaka. It can be used from Nagoya, Kyoto, Osaka, Nara, Kobe and Himeji, as well as other areas. PiTaPa is a postpaid system, and users have to register a bank account from which fares are deducted every month.
Toica Card – JR Central
Toica is issued by JR Central, operator of the Tokaido Shinkansen bullet train, for rail lines in the Tokai region surrounding Nagoya. Its mascot is a yellow chick.
Manaca Card – Nagoya Area
Introduced by the Nagoya City Transportation Bureau for subways and other rail lines as well as buses, Manaca is another IC card for use in Nagoya and the surrounding area. Its mascot is a yellow smiley face.
Sugoca Card – JR Kyushu
Sugoca is issued by JR Kyushu for use on railways in Kyushu, Japan's southernmost main island. Its mascot is a frog.
Nimoca Card – Fukuoka
The Nimoca card is issued by Nishi-Nippon Railroad (Nishitetsu) for use on its railways and buses that are focused on Fukuoka Prefecture in Kyushu. It has a ferret for a mascot.
Hayakaken Card – Fukuoka
This is the IC card for Fukuoka City's subway system. Its mascot is a prairie dog.
Kitaca Card – JR Hokkaido, Sapporo
Issued by JR Hokkaido, a rail operator on Japan's northernmost island, Kitaca is for use on rail lines in and around Sapporo. Its mascot is a flying squirrel.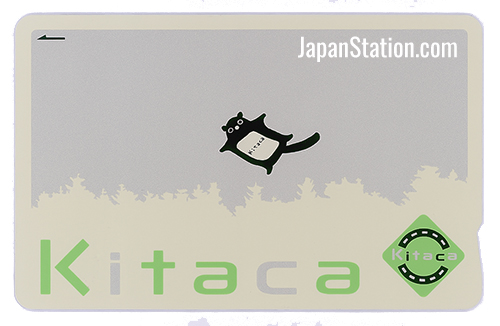 Article by Tim Hornyak. All rights reserved.