In a joint statement, JR East and JR West announced on August 30th that the Hokuriku Shinkansen extension will open between Kanazawa in Ishikawa Prefecture and Tsuruga in Fukui Prefecture on March 16th, 2024. Currently, the Hokuriku Shinkansen runs between Tokyo and Kanazawa, but the eventual plan is to have the line extended to Osaka.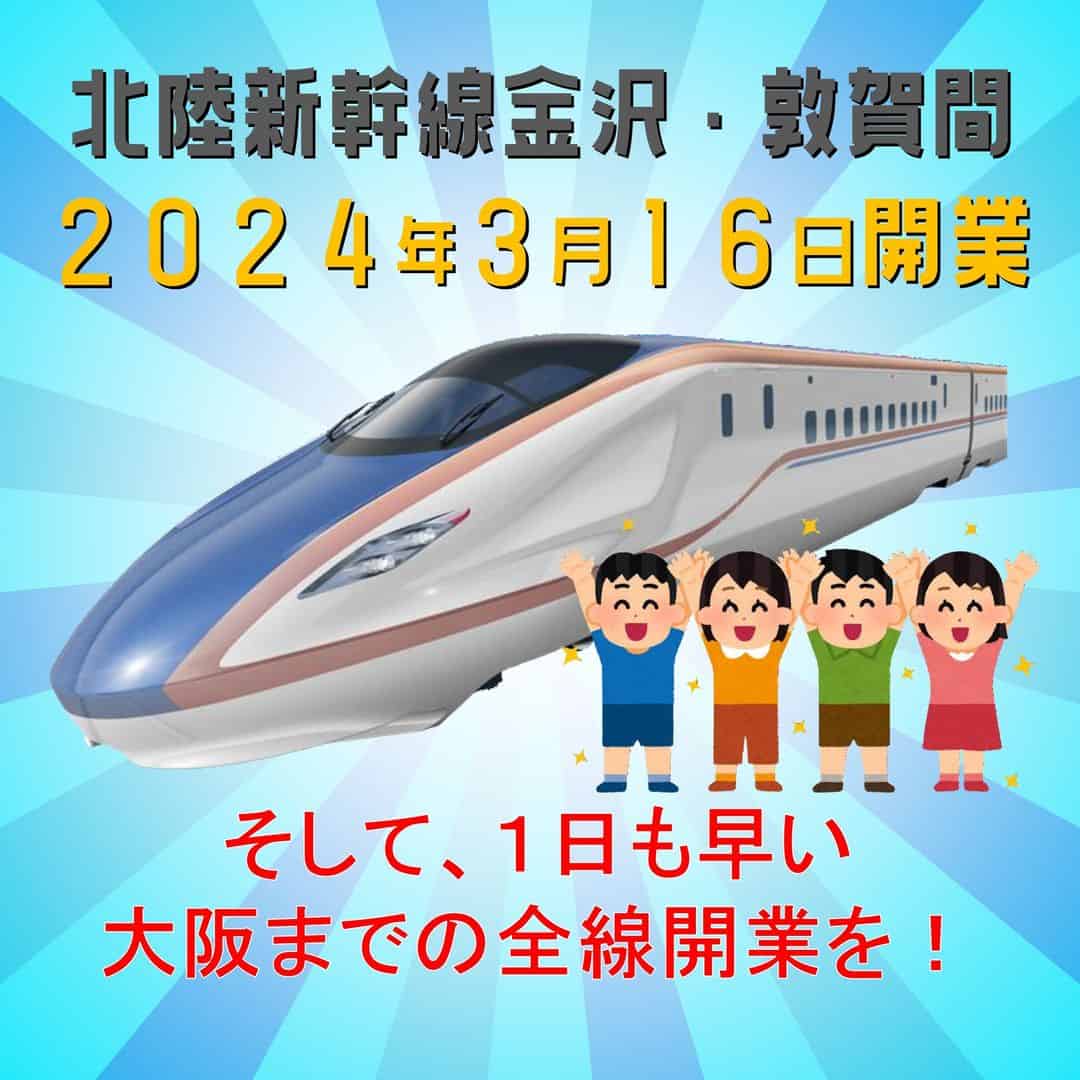 Once the extension is open between Tokyo and Tsuruga, the fastest travel time between Tokyo and Fukui will be 2 hours and 51 minutes (cutting the journey time by 36 minutes) and between Tokyo and Tsuruga it will be 3 hours and 8 minutes (cutting 50 minutes). There will be 14 round trips between Tokyo and Tsuruga each day.
Due to the extension, the limited express Thunderbird that now connects Kanazawa with Kyoto and Osaka will run a shorter route between Tsuruga and Osaka. The Shirasagi that currently runs between Nagoya and Kanazawa will also run a shorter route between Nagoya and Tsuruga.
The following limited express services will also be discontinued:
The Ohayo Express and Oyasumi Express between Kanazawa and Tsuruga.
The Dinostar between Kanazawa and Fukui.
The Hokuriku Main Line that currently serves limited express and conventional train services between Kanazawa and Tsuruga will also be taken over by a third sector railway company funded by local government and businesses.
The Hokuriku Shinkansen extension will have five new station stops between Kanazawa and Tsuruga: Komatsu and Kaga Onsen in Ishikawa Prefecture, and Awara Onsen, Fukui and Echizen-Takefu in Fukui Prefecture.
The Hokuriku Shinkansen first opened in 1997 between Tokyo and Nagano. When it was extended to Kanazawa in 2015 it helped to make the city a very popular tourism destination. The new extension is bound to have the same effect for the new stops on the line.
Although the extension between Kanazawa and Tsuruga was originally scheduled to open this spring, various construction delays have caused the line to open one year later than planned. The final extension to Osaka is expected to open in 2046.
Article by Michael Lambe. Photo by pk926/pixta. All rights reserved.